Offshore Web, Mobile & Software Development Company
Now outsource all your custom software development services to KNP Technologies. Right from offering IT consulting to coming up with a project development roadmap; offering end-to-end development to finally helping you run it smoothly, we cover anything and everything for you! At KNP Technologies, we here have a strong team of tech-savvy experts who believe in delivering excellent business solutions to our clients. To keep up with the changing technology trends and business demands, we follow agile methodologies. Over the years, we have delivered robust, scalable, and flexible business solutions over the wide digital space both covering mobile and web technologies.

Proud to have played a key role in many clients' business successes.

We have delivered quality software solutions right within budget and set timelines.

We are global. We have ever-growing clients around the globe.

We have strong, skilled, and experienced tech experts on board.
Web and Mobile App Development Services

If you have an app idea, we have the expertise to turn it into reality. Being a leading mobile app development company in India, we have the app developers with the right expertise and infrastructure to get started.

Being a well-known web development company in India, we here offer a range of web development services to cater to your B2C or B2B needs. We here build high-performing profitable business solutions.

We design and create innovative, interactive, and realistic UIs for your business solution. We follow the latest design patterns and trending UI/UX technologies to design solutions that easily connect users with the brand.

At KNP Technologies we offer full-stack custom software development services that address your business challenge effectively. We here deliver scalable, flexible, and responsive software solutions.

Full Stack
Development
As a globally well-renowned full stack development company, we have gathered unmatched experience in both back-end and front-end technologies. Improve the conversion-driven user experiences and features of your websites with our wonderful end-to-end services.

We here deliver highly-immersive apps for your business by leveraging AR/VR technologies. Being a renowned mobile app development company in India, we will explore its capabilities to boost business ROI.

We here cover a range of digital marketing services to help your business enjoy better reach and traffic over different digital channels. We follow industry best practices and customer-centric campaigns to help with branding and ROI.

Artificial
Intelligence
We are offering cutting-edge AI and Machine Learning development services and solutions that cater to various industries. We integrate the world of AI & Machine Learning in a modern and flexible way to provide best solutions to your business.
Being a reputed software development company with years of industry experience, we are proud to say that we have served businesses belonging to different niches.
Entertainment & Social Networking
Our Website & App Development Process
step 1
Discovery
This step is all about gathering information about the business requirement. Here project managers and all stakeholders come together to understand what they expect from the software product once it has been developed. 
For that, they come up with a list of questions that need to be answered. Once all the answers are gathered, a general idea about the software product will be available. 
After that, a document is prepared with the required guidelines that are expected by developers to be followed during development.  
I hired one developer from KNP Technologies to develop my website. From the first project with them, I found them quite professional and supportive; so I decided to hire them for my ongoing apps and web development projects. It has been more than 2 years working with them and thanks to KNP Team and Management, everything is going quite smoothly.
I would like to take up this opportunity to thank team KNP Technologies for the complete satisfaction we had from your team for the kind of work you did for us. The mobile app you developed for us was creative, innovative, and user-friendly and we vouch for that. We look forward to working with your team in the future.
To begin with, let me admit I was not comfortable with the idea of outsourcing as I always want to have complete control over the work and employees. KNP Technologies changed my whole outlook towards outsourcing by delivering me an excellent, fully-functional, and secure website for my business. I really had a good time with the web development team. Finally, I am thankful to the entire team for their dedication.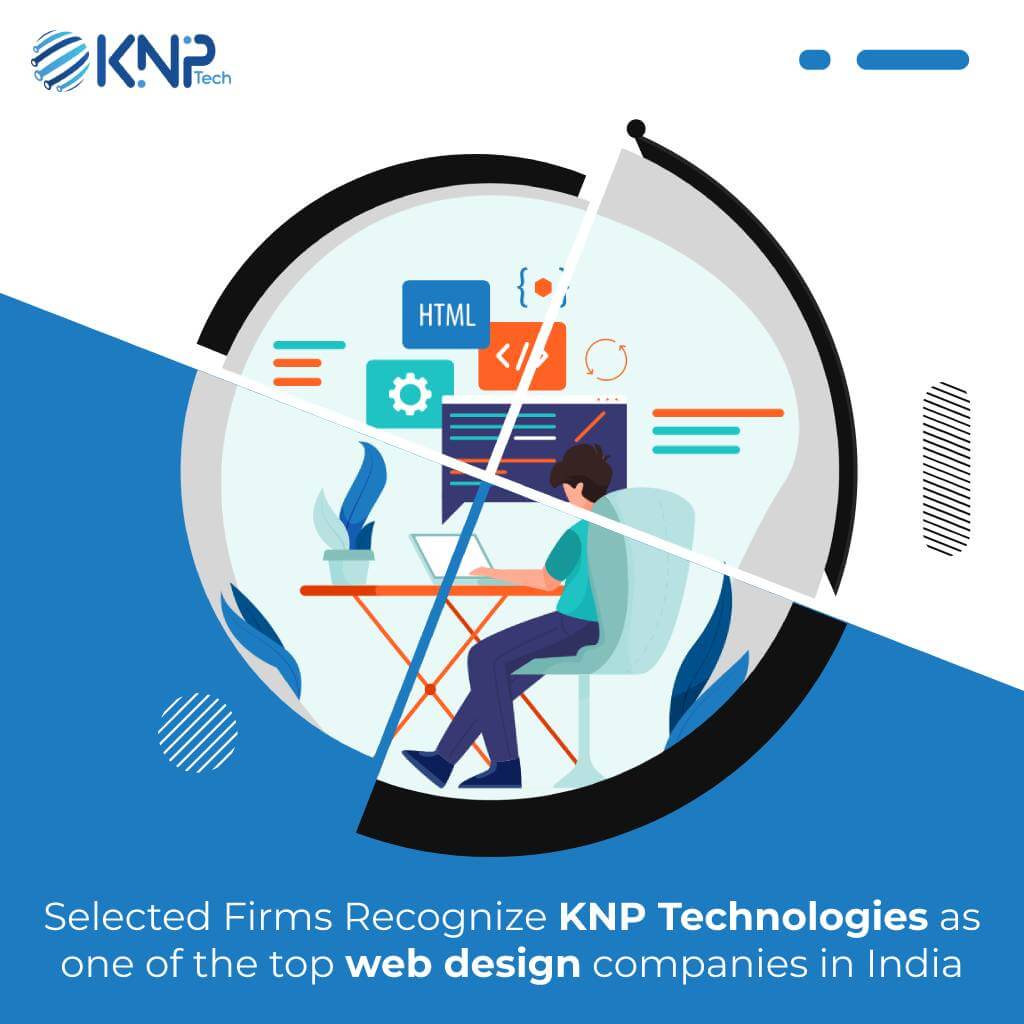 KNP Technologies is an experienced & highly trustworthy firm delivering qualified results that help clients grow their consumer base. We are delighted to announce that with our experts' regular grind and commitment, we have earned a spot in the list of top website design companies in India by Selected Firms- A trusted B2B research and
Read More
Have a project idea in mind? Fill up the form below and our team will get back to you at the earliest. Don't miss your chance to get a free quote!