Who Are We?
What Do We Do?
KNP Tech stands as a dynamic workforce in the world of software development. We have employed highly passionate and creative mobile and web app engineers to craft a masterpiece for clients like you. Our team consists of skilled designers, developers, testers, and strategists. We have hired a designated project coordinator for each team, following the standard industry practices.
As your technology partner, we stay at the forefront of industry trends, ensuring maximum client benefits. At KNP, we follow agile development methodology for crafting web and mobile apps, providing the best conceptualization to the deployment cycle.

Proud to have played a key role in many clients' business successes.

Successful Projects Delivery
We have delivered quality software solutions right within budget and set timelines.

We are global. We have ever-growing clients around the globe.

We have strong, skilled, and experienced tech experts on board.
Our Software Development Services
We empower innovation and excellence with these services.

Mobile App Development
Captivate your audience by developing highly engaging and secure mobile apps. Hire our mobile app development company to craft feature-rich mobile applications for iOS and Android. We help deliver seamless performance and user satisfaction to your end users.

Web Development
Hire our offshore web development company to build frontend, backend, and full-stack web apps that easily resonate with your business niche and goals. We aim to develop business or eCommerce websites that are highly scalable, responsive, and secure for your esteemed projects.

UI/UX Design
UI/UX has the core of your dream project. We understand the importance of this, and hence, we have employed the most skilled designers to give your project a scalable kick-start. Select us as your software development company to build responsive web app design, mobile app design, and custom UI/UX design.

IT Consulting
We have strategic insights and experience consulting for software development projects and technologies. Whether you have a project in mind or are confused with your existing software development plans, we are just a click away to help you with flawless consultation.

Full Stack Development
We have employed the best full-stack developers to help your project with A-Z of custom development needs. As your offshore software development company, we help your business with scalable and seamless backend and frontend application development services.

AR/VR Apps
While your project needs extensive and attractive technologies to advance the experience, we suggest our AR and VR development services. Be it gaming, travel, entertainment, education, or simulation- we are here to offer the best with our AR and VR development team.

Digital Marketing
Have products or services to market online? We help your business with advanced and proven digital marketing services comprising SEO strategy development, content strategy and planning, content writing, on-page and off-page optimization, & technical SEO services.

Artificial Intelligence
Hire our custom software development company to advance your business with AI Development services. We offer problem-solving, machine learning, natural language processing, and informed prediction and decision-making services under our AI label.
Here is How We Seamlessly Manage Each Component of Your IT Ecosystem
For the following suite of services, we as your offshore software development company follow a holistic approach to the cloud and in-house infrastructure.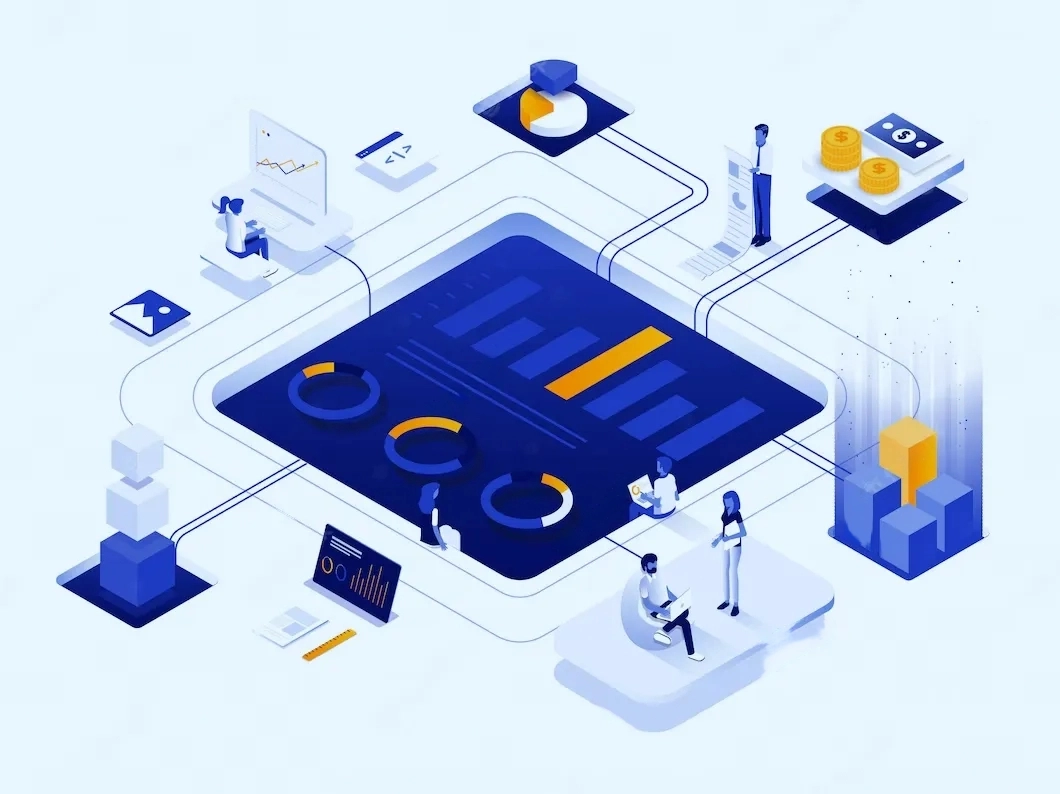 Software Development Services: Industries We Serve
We are happy to explore our experience and services niche with a wide range of industries across the globe.
Entertainment & Social Networking
Our Software Development Process
We follow an agile development process for building scalable websites and mobile apps. Here is the step-by-step software development process that we follow.
step 1
Ideation & Strategy
In the initial stage, our development team tries to understand your business goals, understanding, and requirement to move ahead with the project's core, UI/UX design.  
Accreditations & Achievements
Hire Developers for Your Projects
With an easy onboarding process, we, as your offshore development company, help you hire the best devs for the following projects.
Why Choose KNP Technology as Your Software Development Agency?
Choosing us as your custom software development company will benefit your project in multiple ways.
Data Security and Compliance
Seamless Team Coordination
I hired one developer from KNP Technologies to develop my website. From the first project with them, I found them quite professional and supportive; so I decided to hire them for my ongoing apps and web development projects. It has been more than 2 years working with them and thanks to KNP Team and Management, everything is going quite smoothly.
I would like to take up this opportunity to thank team KNP Technologies for the complete satisfaction we had from your team for the kind of work you did for us. The mobile app you developed for us was creative, innovative, and user-friendly and we vouch for that. We look forward to working with your team in the future.
To begin with, let me admit I was not comfortable with the idea of outsourcing as I always want to have complete control over the work and employees. KNP Technologies changed my whole outlook towards outsourcing by delivering me an excellent, fully-functional, and secure website for my business. I really had a good time with the web development team. Finally, I am thankful to the entire team for their dedication.
If you are here on this page, then you might know what it is.? In which cases of development, the Laravel framework can be used,
Read More
Have a project idea in mind? Fill up the form below and our team will get back to you at the earliest. Don't miss your chance to get a free quote!